by Catherine Carleton, Founding Director of Carleton Legal &

Melanie Pritchard, Success Coach & Wellbeing Trainer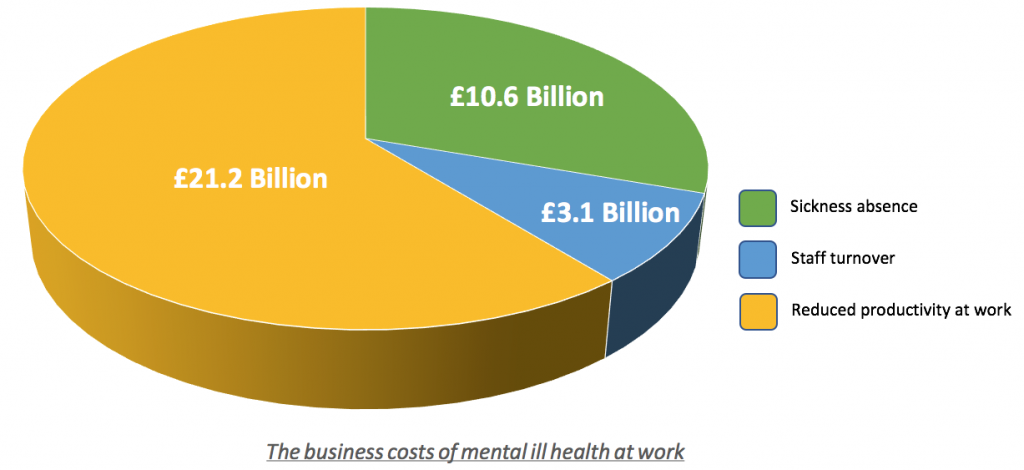 The legal profession attracts some of the highest achievers out there, from A-type personalities driving Magic Circle revenues north of a billion pounds a year, to cut-above intellect which sees only a third of student barristers securing pupillages.
You simply do not cut the mustard without crème de la crème academics, drive, attention to detail and resilience. And, while this passion and tenacity drives great success, without balance and self-management the same drive can lead to stress and burn-out. Although many aspects of the law contribute to mental well-being from financial security, intellectual stimulation, close working relationships and social status, research shows that we are all vulnerable to mental ill health, lawyers and barristers included.
Here are five reasons why more and more law firms are investing in looking after the mental wellbeing of their staff:
1- One in four people in the UK experience a mental health condition each year;
2- Common mental health issues, like depression and anxiety, account for the most days off sick of any health condition;
3- According to the World Health Organisation (WHO), depression has become the leading cause of disability worldwide and has significant economic consequences;
4- Mental health problems at work cost the UK economy £34.9bn (absenteeism, staff turnover and loss of productivity);
5- And employers that take steps to support mental health at work will benefit from a more productive, happy and loyal workforce.
With a £35 billion price tag on doing nothing (that is roughly equivalent to the value of the entire legal services' economy), there is a real business case for wellbeing initiatives being prioritised by the legal industry. In the words of Sarah Hughes, Chief Executive of Centre for Mental Health: "Those employers that ignore the issue, or who undermine the mental health of their staff, risk not only the health of the people who work for them but the wealth of their business and the health of the economy as a whole".
This is why more and more law firms and chambers are increasingly putting employee wellbeing at the top of the agenda, because they recognise that law firms are fundamentally people businesses: the strength, skills and health of their people ultimately defines the success of the business. In the words of Dan Harris, Diversity, Inclusion and CSR Manager at Taylor Wessing: "We know that the legal sector is a high-pressure environment, so providing our people with the tools to become more resilient is beneficial both to our people and the firm. We believe wellbeing means catering for our people's physical and mental health, and helping build resilience to deal with busy working and home lives. Without focusing investment on people and their wellbeing, businesses suffer".
So, what are firms and chambers doing to promote wellbeing?
Ventures include Linklaters providing Mental Health First Aid Courses to line managers, Taylor Wessing's mindfulness sessions, yoga classes and financial advice clinics, Clifford Chance's graduate development programme aimed at developing more resilient individuals, and Mishcon de Reya's unlimited holiday allowance for staff. On a wider level, schemes like The Legal Profession Wellbeing Taskforce, Wellbeing at the Bar and City Mental Health Alliance are promoting mental health and wellbeing across the legal community, with QCs and partners speaking out to support lawyers and barristers to find a better balance and break the taboo around mental ill health.
Ideas to support employee wellbeing within the legal environment include:
– 1:1 Coaching – coaching helps professionals move from where they are now to where they want to be in their personal and professional lives, boosting motivation, productivity and happiness.
– Mindfulness Masterclasses – becoming more present in the moment is scientifically proven to increase focus, productivity, resilience and calm.
– Resilience Workshops – giving employees simple tools to cope better with change and adversity builds self-esteem, confidence and performance in their personal and professional lives.
– Wellbeing Workshops – increasing awareness of wellbeing and what this is, and providing practical tips for happier living gives employees easy ways to up level their lives.
– Mental Health First Aid Courses – when people better understand the signs and symptoms of mental ill health they feel more confident about helping someone experiencing problems, and can provide support before issues escalate.
Put simply, investing more in employee happiness benefits all stakeholders, with a more positive culture and happier workforce having a knock-on effect on growth, profitability and market share. This is what sustainable success is built on, and why industry leaders invest in their people from a grass roots level right the way up to the
BIOS
An ex-Taylor Wessing lawyer, Catherine Carleton is the Founding Director of Carleton Legal, a boutique legal recruitment consultancy, specialising in the appointment of high calibre junior associates to senior level lawyers across a range of practice areas in leading City law firms and beyond. Catherine focuses predominantly on the placement of associates across a range of practice areas into leading UK and international law firms. You can read how Catherine can help you here – http://www.carletonlegal.com/.
Melanie Pritchard is a lawyer turned success coach and wellbeing trainer specialising in career, confidence and relationship coaching. Helping individuals and businesses move from where they are now to where they want to be, she works with a range of clients from lawyers, ex-army captains and company directors, to graduates, divorcees and prisoners (in person and via Skype). She is passionate about raising the profile of wellbeing and mental health, delivering workshops like Mental Health First Aid, Mindfulness and Resilience Masterclasses. You can read how Melanie can help you here – www.melanie-pritchard.com, follow her on Instagram here and Facebook here.